Take your branding to the next level.
• Best for high-quantity use
• Rolled on 3"-diameter cores
• 4 shapes, 4 colours & 4 materials available
• Quantities from 100 to 25,000
For smaller quantities, check out: Sheet Stickers
One roll. Lots of opportunities.
Looking for a simple and stress-free way to create a consistent, professional look across lots of packaging and products? My custom sticker rolls are easy to use on bags, boxes, jars, bottles and more – anything and everything you'd want to brand. Pick the quantity that works best for you – as low as 100, as high as 25,000 – and choose from my assortment of shapes, sizes, colours and materials. Whatever your business need or preference, I have the fully customizable, professional design options you need to get your logo noticed.
Are roll labels right for you?
GoSexy.CA offers custom stickers for every budget and need. Check out each option below.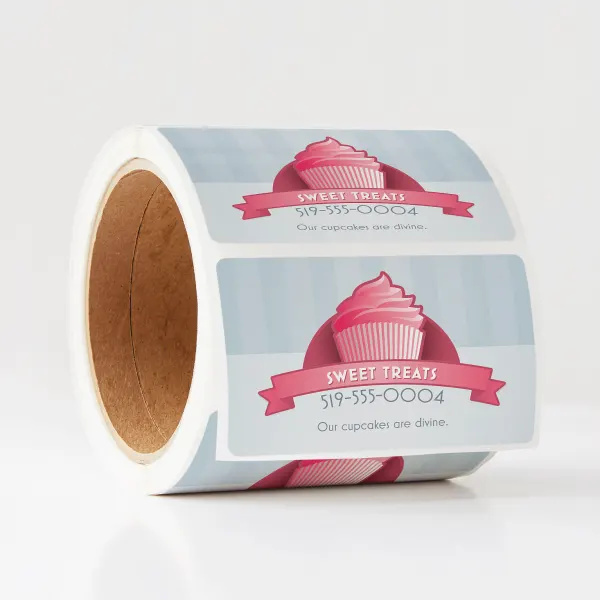 Roll Labels
Best for high-quantity use
• Quantities of 100 to 25,000
• 3 materials: paper, plastic, vinyl
• 4 colors: white, clear, gold, silver
• Good for indoor & outdoor use
• Water- and weather-resistant options
Roll Labels

Shape
Circle

Oval
Rounded Rectangle
Rounded Square

Finish

Material

White Paper
Clear Plastic

White Plastic
Silver Foil Paper
Gold Foil Paper
White Vinyl

Size
(Horizontal = W x H)
(Vertical = H x W)


1" x 1"
2" x 1"
3" x 1"
1.5" x 1.5"
2" x 2"
3" x 2"
3.5" x 2"
4" x 2"
2.5" x 2.5"
3" x 2.5"
3" x 3"
4" x 3"
5" x 3"
4" x 4"
6" x 4"
3.5" x 3.5"
5" x 5"
5" x 3.75"
Plus Custom Sizes

Orientation









Frequently Asked Questions
Q: What are the differences between paper and plastic and vinyl sticker materials?
A: Different roll label materials work better for different types of projects. When choosing one for your project or business need, we recommend that you consider the following:
• Paper roll labels are great for indoor use, when the sticker won't come in contact with liquid. We consider this our traditional, budget-friendly roll label sticker option.
• Plastic custom roll labels are oil- and water-resistant and a more durable option for indoor and outdoor use. If you're labeling products that contain (or are exposed to) oil, lubricants or cold temperatures, this is a good choice.
• Vinyl roll labels are our most durable stickers. Both weatherproof and dishwasher-safe, they're up for any task.
Q: Can I order a few samples?
A: Unfortunately, we can't ship samples before you purchase – at least, not right now.

Q: Can I get overnight shipping?
A: Not at present. We offer 3-, 5- or 8-day shipping options.
Q: If I order 5,000 roll labels, how many rolls will I get?
A: It depends on the size and shape of your roll labels. If you order rectangular 5" x 3" labels, you'll get 10 rolls of 500 labels each. If you order circular 2" x 2" labels, you'll get 5 rolls of 1,000 labels each.