GoSexy Admin

Hits: 77
What Kind of Business Can GoSexy.CA Have With a Vinyl Cutting Machine?
Vinyl cutters come in a variety of shapes and sizes, and they can be used to manufacture commercial-grade products. Keep in mind that just a vinyl cutter isn't enough; you'll also need a computer and software to design the images you want to print. With the right software, you can use your vinyl-cutting machine to open a small business selling ready made or made-to-order signs, stickers, T-shirts or decals.
T-Shirt Business
Manufacturing T-shirts is big business, and a vinyl cutter is one of the key pieces of equipment needed to start your own T-shirt company. A combination printer/cutter is preferable if you plan to make multicolored T-shirt designs. In addition to your vinyl cutter and computer, you'll also need a heat press. Once the vinyl design has been cut, a heat press is used to permanently apply the design to the front of T-shirts, jackets or jerseys.
Vinyl Lettering
Surrey BC. based company GoSexy.Ca uses a printer/cutter to make custom lettering that can be easily applied to indoor walls, signs, vehicles and more. If you plan to put your vinyl cutter to such a task, attract customers by offering a variety of fonts and sizes. You can use your vinyl cutter and computer to make individual letters that can be compiled by a customer, or custom-made signs. You'll need to purchase self-adhesive vinyl on which to print your creations.
Making Magnets
You can use a vinyl-cutting machine in the manufacture of magnets. With a vinyl cutter and the correct software, you can make and market small and creative refrigerator magnets to individual customers. In addition, you can also offer businesses made-to-order vehicle magnets that are easy to apply to and remove from commercial vehicles. You'll need to use 30 mm magnetic sheeting for magnets intended for automotive use, whereas magnetic sheeting of lesser thickness is acceptable for magnets to be used on stationary objects.
Banners
Vinyl cutters can also be used to make large banners for special occasions. These can be marketed for individual use, such as for weddings, parties or family reunions. They can also be marketed to commercial clients that want to advertise a sale, advertise real estate, make an office party more festive or decorate a billboard. If you decide to enter the business of manufacturing vinyl banners, it's a good idea to build a website for your business so that customers can design and order their own signs online.
GoSexy Admin

Hits: 86
Welcome to Windows 10
Getting Started Series
This is the first in a series of emails designed to help you get the most out of Windows 10. This email includes the info you need to get up and running quickly.
If you've opted out of receiving email, you'll only get one more in this series.
It's the Windows you know, only better
Windows 10 is so familiar and easy to use, you'll feel like an expert. Because updates are automatically enabled1, you'll have the very latest features when they're released, which means Windows will just keep getting better.
Learn more
Get to know the Get Started app
We've designed the Get Started app to help you get the most out of Windows 10. It can help you get on the web, navigate your device, move files, set up printers and hardware, and more. Any time we add new features to Windows 10, the app will automatically update1 to help you with those, too.
Open the Get Started app
Meet Cortana
You now have your very own personal assistant. Cortana2 works across your day and your Windows 10 devices to help you get things done. By learning more about you over time, Cortana becomes more useful every day.
Just talk or type and Cortana will help you:
Getting around your device
Search with the taskbar or Cortana2
The easiest way to search the web, your device, and access and share the files on OneDrive is through the Windows search box on your taskbar or by simply asking Cortana.
Learn more
Touch3 or type
Interact with your device in the way that's most natural.
Learn more
We're here to help
Have a question or need some info? Help is already built in. Just use the Windows search box and Windows 10 will use Cortana2 to get a quick answer, a step-by-step tutorial, or a connection to a real person through our Contact Support app.4
Discover everything your Microsoft account can do
With this one account, you can take your settings, preferences, and files you have backed up on OneDrive with you across all your devices – and not just Windows devices5. Plus, you'll only need to remember one user ID and password.
Update your Microsoft account
Join the conversation about Windows 10.
GoSexy Admin

Hits: 93
In November we Remember, then we prepare for the busy holiday season with craft markets,
theatrical productions, and festivals. View a full list of November events in Metro Vancouver
(and the Fraser Valley) below and check back often as I update this list daily with new entries.
If you have an event you would like to see added, send it in here for a free listing.
November Events in Metro Vancouver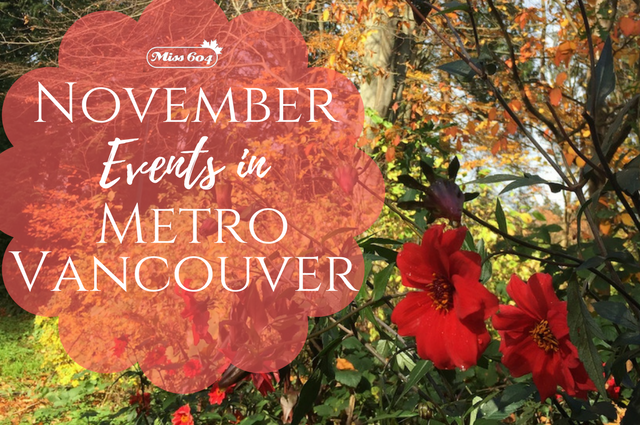 Jump to: Tuesday, November 1 to Sunday, November 6, 2016
Jump to: Monday, November 7 to Sunday, November 13, 2016
Jump to: Monday, November 14 to Sunday, November 20, 2016
Jump to: Monday, November 21 to Sunday, November 27, 2016
Jump to: Monday, November 28 to Wednesday, November 30, 2016
 
Multi-Day Events
Events that run for longer than three days in a row are highlighted in green.
 
Tuesday, November 1, 2016
An Evening With Best-selling Travel Author Patricia Schultz
Hand & Sew: Tote Bag Workshop
Standing Room Only Theatre Presents: 12 Angry Jurors
TWU Presents: Smash
Pacific Theatre Presents: Suitcase Stories by Maki Yi
Heart of the City Festival
Presentation House Theatre: Ages of the Moon

Wednesday, November 2, 2016
Food Talks Volume 14
Celluloid Social Club
Mariza, The Queen of Fado, at the Chan Centre
Standing Room Only Theatre Presents: 12 Angry Jurors
Heart of the City Festival
TWU Presents: Smash
Presentation House Theatre: Ages of the Moon

Thursday, November 3, 2016
Stanley Park: In the Wake of the 2006 Windstorm
Ballet BC Program 1
Vancouver Jewish Film Festival
Mags West
Douglas College Theatre Presents: Love and Information
Standing Room Only Theatre Presents: 12 Angry Jurors
Heart of the City Festival
TWU Presents: Smash
Presentation House Theatre: Ages of the Moon

Friday, November 4, 2016
Variety Week Street Festival
Coquitlam Craft Beer Festival
Opening Reception: Shed yr skin, New works from Nomi Chi
Newton Community Walk
Clarinet Masterclass with Charles Neidich
Designers! Drinks! Discussion! at MOV
Eastside Flea November Markets
Joseph and the Amazing Technicolor Dreamcoat
Standing Room Only Theatre Presents: 12 Angry Jurors
Ballet BC Program 1
Heart of the City Festival
Vancouver Jewish Film Festival
Douglas College Theatre Presents: Love and Information
TWU Presents: Smash
Presentation House Theatre: Ages of the Moon

Saturday, November 5, 2016
Diwali Downtown Surrey
Cooking Demo & Dinner: Fall Flare
PechaKucha 20×20 New Westminster
Finding Your Niche in the Age of Digital Imaging
Vancouver Train Expo
TEDxSFU
Blue Light Sessions Presents Echo Nebraska
Survivors Totem Pole Raising
Vancouver Health Show
Starlight Children's Foundation Presents Sparkle!
9th Annual Furry Tail Endings Gala benefitting LAPS
Broken Pencil's Canzine West 2016
A Night of Miracles for BC Children's Hospital
Photography Exhibit at the West End Community Centre
Nat Bailey Winter Farmers Market
Music on Main: Modulus Festival
Miss Shakespeare at the Firehall Arts Centre
Eastside Flea November Markets
Ballet BC Program 1
Heart of the City Festival
Vancouver Jewish Film Festival
Presentation House Theatre: Ages of the Moon
TWU Presents: Smash
Douglas College Theatre Presents: Love and Information
Joseph and the Amazing Technicolor Dreamcoat

Sunday, November 6, 2016
VSO at the Movies: Raiders of the Lost Ark
Vancouver Art Guild Winter Salon
Radiance: Shakti Society's 4th Annual Wellness Day
Cannery Farmers' Market
Digging in Deep: Youth Photovoice Project
Winter Salon Art show and sale
Vancouver Train Expo
Vancouver Recital Society: Anna Fedorova
An Evening With Il Divo
Rank & Vile f. Kenny Robinson & Darren Frost XXX Comedy Show
An Evening with Richard Dawkins and Matt Dillahunty
Hastings Park Farmers Market
Miss Shakespeare at the Firehall Arts Centre
Music on Main: Modulus Festival
Eastside Flea November Markets
Heart of the City Festival
Vancouver Jewish Film Festival
Presentation House Theatre: Ages of the Moon
Douglas College Theatre Presents: Love and Information
Joseph and the Amazing Technicolor Dreamcoat
 
Monday, November 7, 2016
Music on Main: Modulus Festival
Douglas College Theatre Presents: Love and Information
Vancouver Jewish Film Festival

Tuesday, November 8, 2016
Hand & Sew: Tote Bag Workshop
KPU Brewing Diploma Road Show
Foxtrot Vineyards Dinner at YEW
Music on Main: Modulus Festival
Vancouver Jewish Film Festival
Douglas College Theatre Presents: Love and Information
Miss Shakespeare at the Firehall Arts Centre

Wednesday, November 9, 2016
Circle Craft Winter Craft Market
Kwantlen Polytechnic University Langley Open House
HOT TALKS: Eastside Culture Crawl 2016
Music on Main: Modulus Festival
Vancouver Jewish Film Festival
Douglas College Theatre Presents: Love and Information
Miss Shakespeare at the Firehall Arts Centre

Thursday, November 10, 2016
Jazz Concert Series Presents: James Danderfer & Bruno Hubert
Opening Night: Winter Treasures, Port Moody
Interesting Vancouver 2016
Beijing People's Art Theatre in Lao She's Teahouse
8th Annual Benefit of Possibilities…A Community Affair
Movies in the Morgue: Miss Congeniality
Joseph and the Amazing Technicolor Dreamcoat
Vancouver Jewish Film Festival
Circle Craft Winter Craft Market
Douglas College Theatre Presents: Love and Information
Miss Shakespeare at the Firehall Arts Centre

Friday, November 11, 2016
Remembrance Day
Remembrance Day: Local Legion Listings
Remembrance Day, Surrey
Beijing People's Art Theatre in Lao She's Teahouse
Graham Clark presents… Quiz Show 2!
Fan Expo Vancouver
Vancouver Jewish Film Festival
Circle Craft Winter Craft Market
Miss Shakespeare at the Firehall Arts Centre
Joseph and the Amazing Technicolor Dreamcoat

Saturday, November 12, 2016
Pacific Digital Photography Club Presents Photomotion
Junking at The Olde Farmhouse, Abbotsford
The Boom Booms at the Imperial
Burnaby Christmas Craft Fair
Ocean Park Community Orchard Build Day
Vancouver Women's Conference
Nat Bailey Winter Farmers Market
Vancouver Jewish Film Festival
Fan Expo Vancouver
Circle Craft Winter Craft Market
Miss Shakespeare at the Firehall Arts Centre
Joseph and the Amazing Technicolor Dreamcoat

Sunday, November 13, 2016
City of Burnaby Wedding Show & Swap – Free
Moscow Ballet: Great Russian Nutcracker
A Night In Vienna – CMS String Sextet
Second Sunday Concert Series: RSVP, Rhapsody and Sonata for Viola and Piano
Family Toy & Clothing Sale
Voice Masterclass with Susan Platts
West African Vodu Exhibit Opening, Surrey
Hastings Park Farmers Market
Vancouver Jewish Film Festival
Fan Expo Vancouver
Circle Craft Winter Craft Market
Miss Shakespeare at the Firehall Arts Centre
Joseph and the Amazing Technicolor Dreamcoat
 
Monday, November 14, 2016
VSO Masterworks: Verdi's Requiem

Tuesday, November 15, 2016
Puzzled Pint
Film Screening: Tomorrow, The Film
Charity Shopping Night at Willowbrook
Hand & Sew: Tote Bag Workshop
RENT at Centennial Theatre, North Vancouver
Miss Shakespeare at the Firehall Arts Centre

Wednesday, November 16, 2016
Charitable Shopping Night at Holt Renfrew for Parkinson Society BC
Ocean Wise® Chowder Chowdown: Vancouver
Collider Cafe: Scientific. Expression.
Movie / Screening of Tomorrow-The-Film with Q & A
RENT at Centennial Theatre, North Vancouver
Miss Shakespeare at the Firehall Arts Centre

Thursday, November 17, 2016
Vancouver Alternative Arts & Fashion Week
Kettle Society: Art Against Stigma
Film Screening: The Gardner
Opening Reception: Anonymous Art Show
The Chan Centre Presen­­ts Brain: by Spoken Word Artist Brendan McLeod
Fairmont Pacific Northwest Culinary Apprenticeship Dinner
Guest Appreciation Night at Krause Berry Farms
Eastside Culture Crawl
Christmas at Hycroft
Joseph and the Amazing Technicolor Dreamcoat
RENT at Centennial Theatre, North Vancouver
Miss Shakespeare at the Firehall Arts Centre

Friday, November 18, 2016
Love to Sew Expo
Britannia Christmas Craft Fair
Reach Gala Presented by 25toLife
Heritage Hockey Event
YOUth (a conference): Deconstructing the World Around You
Murrayville Holiday Market
30th Annual Crystal Ball for BC Children's Hospital
Barbara Pentland Celebration
Behind the Scenes at Maplewood Farm, North Vancouver
Eastside Flea November Markets
19th Annual European Union Film Festival
Refresh Market, Squamish
Vancouver Alternative Arts & Fashion Week
Christmas at Hycroft
RENT at Centennial Theatre, North Vancouver
Eastside Culture Crawl
Miss Shakespeare at the Firehall Arts Centre
Joseph and the Amazing Technicolor Dreamcoat

Saturday, November 19, 2016
Sponsored by Miss604:
Surrey Tree Lighting Festival
Britannia Christmas Craft Fair
St Andrew's Ball
Access Gallery Auction Fundraiser
Crofton House Winter Bazaar
Bloom Winter Market, Fort Langley
New West Craft
West End Community Centre Holiday Craft Fair
Vancouver Academy of Music Strawberry & Tea
Beyond Conference: Lead Through Action Presented by YWiB
North Surrey Handmade Market
Love to Sew Expo
Nat Bailey Winter Farmers Market
Behind the Scenes at Maplewood Farm, North Vancouver
Burnaby Village Museum Heritage Christmas
Refresh Market, Squamish
Vancouver Alternative Arts & Fashion Week
Christmas at Hycroft
RENT at Centennial Theatre, North Vancouver
Eastside Culture Crawl
Eastside Flea November Markets
19th Annual European Union Film Festival
Miss Shakespeare at the Firehall Arts Centre
Joseph and the Amazing Technicolor Dreamcoat

Sunday, November 20, 2016
Blim Market
Cannery Farmers' Market
Hastings Park Farmers Market
Ridgeway Holiday Craft Fair
Vancouver Alternative Arts & Fashion Week
RENT at Centennial Theatre, North Vancouver
Jingle Bell Walk & Run for Arthritis, New Westminster
Eastside Culture Crawl
Eastside Flea November Markets
19th Annual European Union Film Festival
Miss Shakespeare at the Firehall Arts Centre
Burnaby Village Museum Heritage Christmas
Monday, November 21, 2016
Mohamed Fahmy in Conversation with Laura Lynch
19th Annual European Union Film Festival
Burnaby Village Museum Heritage Christmas

Tuesday, November 22, 2016
Spearhead Huts Soiree
Researching the History of a Building: Vancouver Public Library
Vancouver International Mountain Film Festival
19th Annual European Union Film Festival
Miss Shakespeare at the Firehall Arts Centre
Burnaby Village Museum Heritage Christmas

Wednesday, November 23, 2016
Disney On Ice Presents Worlds of Enchantment
Elvis Costello in Conversation with Stephen Quinn
Vancouver International Mountain Film Festival
19th Annual European Union Film Festival
Miss Shakespeare at the Firehall Arts Centre
Burnaby Village Museum Heritage Christmas

Thursday, November 24, 2016
The Art Studios' Winter Sale & Silent Auction
Movies in the Morgue: French Connection
Vancouver Opera: Hansel & Gretel
Canyon Lights at Capilano Suspension Bridge Park
Disney On Ice Presents Worlds of Enchantment
Vancouver International Mountain Film Festival
19th Annual European Union Film Festival
Miss Shakespeare at the Firehall Arts Centre
Burnaby Village Museum Heritage Christmas

Friday, November 25, 2016
L'Arche Vancouver Christmas Concert
Grouse Mountain Peak of Christmas
Enchant Vancouver Christmas Market
Park & Tilford Hi-Light Festival
Disney On Ice Presents Worlds of Enchantment
Vancouver International Mountain Film Festival
19th Annual European Union Film Festival
Miss Shakespeare at the Firehall Arts Centre
Canyon Lights at Capilano Suspension Bridge Park
Burnaby Village Museum Heritage Christmas

Saturday, November 26, 2016
CandyTown in Yaletown
Lights at Lafarge, Coquitlam
Edmonds Festival of Lights
ZarYevka Ballet's The Jabberwocky
Practice Self Defence
Barney Bentall & The Cariboo Express
Cloverdale Kids Swap Meet
Dunbar Holiday Craft Fair
Christmas On The Drive
Heart to Home Holiday Market, Surrey
Nat Bailey Winter Farmers Market
Vancouver Christmas Market @ Jack Poole Plaza
A Charlie Brown Christmas at Carousel Theatre
Vancouver Opera: Hansel & Gretel
Park & Tilford Hi-Light Festival
Grouse Mountain Peak of Christmas
Disney On Ice Presents Worlds of Enchantment
Enchant Vancouver Christmas Market
19th Annual European Union Film Festival
Miss Shakespeare at the Firehall Arts Centre
Canyon Lights at Capilano Suspension Bridge Park
Burnaby Village Museum Heritage Christmas

Sunday, November 27, 2016
Vancouver Craft Cider Festival
Heart to Home Holiday Market, Surrey
Hastings Park Farmers Market
Coast Salish Christmas Market, Fort Langley
VAM Symphony Orchestra: Peter and the Wolf
Vancouver Jewish Book Festival
Vancouver Opera: Hansel & Gretel
Park and Tilford Hi-Light Festival
Grouse Mountain Peak of Christmas
Disney On Ice Presents Worlds of Enchantment
A Charlie Brown Christmas at Carousel Theatre
Vancouver Christmas Market @ Jack Poole Plaza
Enchant Vancouver Christmas Market
19th Annual European Union Film Festival
Canyon Lights at Capilano Suspension Bridge Park
Burnaby Village Museum Heritage Christmas
 
Monday, November 28, 2016
Park & Tilford Hi-Light Festival
Grouse Mountain Peak of Christmas
A Charlie Brown Christmas at Carousel Theatre
Vancouver Christmas Market @ Jack Poole Plaza
Enchant Vancouver Christmas Market
19th Annual European Union Film Festival
Vancouver Jewish Book Festival
Canyon Lights at Capilano Suspension Bridge Park
Burnaby Village Museum Heritage Christmas

Tuesday, November 29, 2016
Sponsored by Miss604:
Education & Career Fairs, Abbotsford
Vancouver Heritage Foundation Evening Lectures at Hycroft
Vancouver Opera: Hansel & Gretel
China Broadcasting Chinese Orchestra
Park & Tilford Hi-Light Festival
Grouse Mountain Peak of Christmas
A Charlie Brown Christmas at Carousel Theatre
Vancouver Christmas Market @ Jack Poole Plaza
Enchant Vancouver Christmas Market
19th Annual European Union Film Festival
Vancouver Jewish Book Festival
Canyon Lights at Capilano Suspension Bridge Park
Burnaby Village Museum Heritage Christmas

Wednesday, November 30, 2016
Hosted by Miss604:
Business Blogging Workshop at Camp Tech
Vancouver Opera: Hansel & Gretel
China Broadcasting Chinese Orchestra
Park & Tilford Hi-Light Festival
Grouse Mountain Peak of Christmas
A Charlie Brown Christmas at Carousel Theatre
Vancouver Christmas Market @ Jack Poole Plaza
Enchant Vancouver Christmas Market
19th Annual European Union Film Festival
Vancouver Jewish Book Festival
Canyon Lights at Capilano Suspension Bridge Park
Burnaby Village Museum Heritage Christmas
» Back to Top «